Nestled in the foot of the Magaliesberg mountains, "The Bay" is a private site run by Skywalk Paragliding School.
Airspace
This site is situated close to several international airports and military air bases. Pilots must remember that the privilege to use this site exists only because of delicate, ongoing negotiation with Air Traffic Control.
Should paragliding pilots break the airspace boundaries, this site may be shut down at a moments notice.
It is therefore MANDATORY to fly with an instrument that logs the flight and provides live information to the pilot. If the track log is called for, it has to be submitted to the committee. If not, then an immediate ban of 3 months will be enforced.
Repeated violation will not be tolerated and the pilot will be denied access to the site.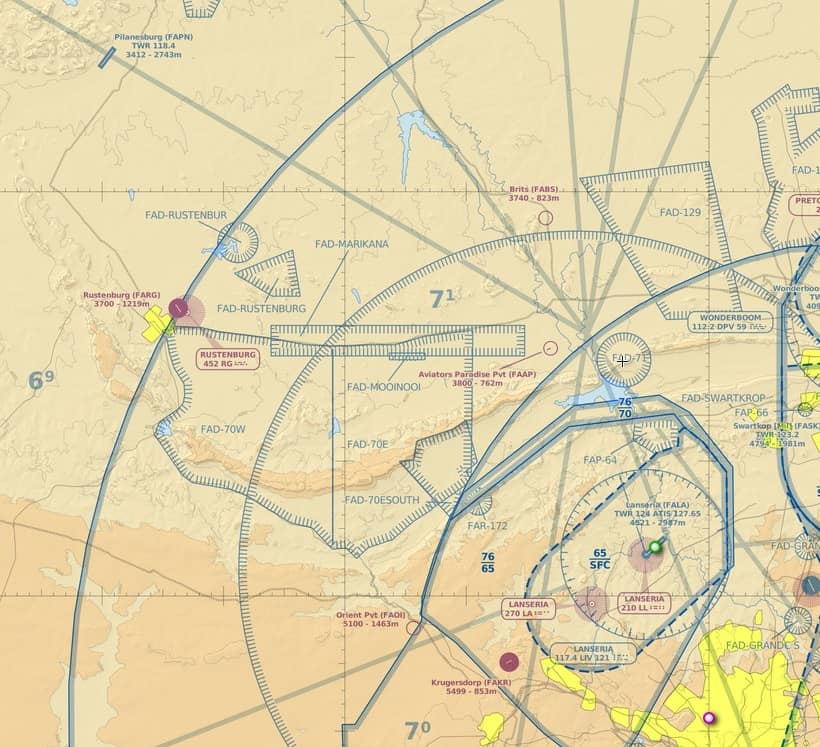 Airspace File
The official airspace file can be downloaded here. This file includes the Orient Gliding Window.
It is strongly recommended to keep an additional 150ft (50m) separation to the relevant airspace due to possible local pressure differences.
Radio Frequencies
PPG chat & training
Special Rules:

125.800 (West)
124.800 (East)

Paragliding
Instrument Settings
The airspace under the FAOR TMA starts at 7600 ft ALT and ends at FL110. Flight instruments need to be set to the QNH of FAOR prior to takeoff. Alternatively, the QNH on a flight instrument is to be set to reflect a pressure height of 1583m ASL if standing on the launch mat on the North side, or 1606m ASL if standing on South side launch.

The FAOR TMA starts at FL110 and ends at FL195. When flying under the TMA, QNE is used as instrument pressure setting (1013mB). Most flight instruments will have this as a fixed value called "ALT1" or "FL" but the onus is on the pilot to understand these concepts and set his/her instrument accordingly.

No exceptions will be made in airspace violation incidents with an incorrectly set up instrument.
Alternative settings
Enter the following waypoint into your GPS ORT 26º08.35'S 27º14.76'E. At takeoff press GOTO OR, if distance is <65km your altitude must be <2300m, if distance >65km & <115km your altitude <3300m. This is for the NW quadrant (typical XC route).
40km out on the south side of the ridge a special concession area allows you <4400m.
Contact
Skywalk Paragliding:

Ronnie Beukes 082 322 1824