Site Guide >> North West >> Harties
Rocky mountain offering enjoyable flying with great cross-country potential in the North West province. Valley release conditions often prevail in the late afternoon, offering spectacular views from high above the mountain. Harties (slang for Hartebeespoort) is rated a Sport-rated site, as it is a sensitive and complex site with significant hazards and logistical challenges.
Requirements
Dam Access Clearance fees (mandatory)
Paraglider pilots:

SAHPA Membership and valid Sport licence (plus 10 guided flights).

Experienced Basic licence pilots may obtain permission to fly under supervision. Please refer to the Fly Harties site for more information.

Hang-glider pilots:

SAHPA membership and valid C License

Foreign Pilots:
New or visiting pilots should seek advice from local senior pilots as this is complex, sensitive and challenging site which requires a detailed briefing and oversight.
Site Rules
Do not break airspace restrictions.
Pilots must have a paragliding radio, reserve, vario at all times.
If you are new to the site, you must fly with a mentor.
Do not fly commercial tandem without prior permission.
Respect property owner rules.
The site is self governed, senior pilots who love and know the site will request a track-log from any pilot seen (or reported) breaking airspace. Pilots who are under investigation for airspace transgression will be denied access to the site pending the outcome of the investigation.
Dam Access Clearance
Dam Access Clearance (DAC) has been around for over two decades and is vital for pilots landing directly below launch on the North Side of the mountain.
From the Fly Harties website: "It takes all of us to keep this option open. Every DAC cent goes into keeping this land owner happy. Without permission to land on his property, north side flying would become almost impossible for some, and a larger challenge than necessary for others. Even the best pilots pay a visit to north side landing. No money from DAC goes to the Harties Cableway. Our rental agreement with land owner is R800 per month."
Day Pass

DAC R60 + R140 Cableway Ticket = R200.00
Payable IN FULL at the Cableway Ticket Office.
Month Pass

DAC R30 + R270 Cableway Ticket = R300.00
Payable IN FULL at the Cableway Ticket Office
12 Month Pass:

DAC must be paid at the same time as the Cableway Season Card.
DAC R350 + R1000 Cableway Season Card = R1 350.00
Payable in full at the Cableway Ticket Office
Please present your SAHPA membership and SACAA license to the ticket office when purchasing any one of the above options. The cableway refunds the DAC portion to FlyHarties to pay rental on north side landing.
Geography
GPS: 25°42'39" (25.7111)S; 27°53'6? (27.885)E
ELEVATION: 1592 m
ALTITUDE: 350m high (1600m ASL).
Airspace ceiling is 700m ATO (2300m ASL), and rises to 1700m ATO (3300m ASL) 7km to the west. Be careful to not enter airspace. Please see the Airspace restrictions (below).
Weather
North West (NW) to North East (NE)
South (S) to South East (SE)
Launch Sites
Purchase your cableway ticket at the ticket office. Take the cablecar up and follow the walkway up to the top.
The South Side Launch – there is a ramp directly in front of a beautifully manicured lawn. Exceptionally good wing handling is required as the area is small and often littered with tables, umbrellas and guests.
The North Side Launch – accessed via a gate between the Pizza Restaurant and the Kiddies Zone. Ask at the Pizza place for the gate to be unlocked. It is a shallow rocky slope dotted with thorn trees and shrubs, the slope angle is very close to the glide angle of a wing and pilots can expect a fair distance of ground skimming before been fully clear of the mountain. Do not sit too soon as last minute running or rock hopping could make the difference between flying or crashing. When launching, take note of the scattered trees and shrubs and look past them, not at them.
Landing Sites
The South Side Landing – Landing is on the school fields to the right of launch (West of the Cableway) and any open field not surrounded by fencing. There is no safe landing directly below launch on the south side, so make sure you have enough glide to make it to landing. Leave the ridge early to avoid landing in a tree. Be on the lookout for power lines and communication cable lines: there are plenty. Also make sure that the field you land in has an exit that is open, otherwise you could spend hours trying to exit.
The North Side Landing – It is located on private property directly below launch, behind the hydroponic tunnels. There is a wind sock on landing. The gate has a combination lock, the code available on request on Cableway WhatsApp Group.To exit, use the large sliding gate with combination lock (1920). The landing area is flanked by a crocodile farm and predator game farm to the west and a private game farm to the East where access is tightly controlled with electric fencing. Do not land in these areas.
Notes for Hang-Glider Pilots
The minimum requirement to fly a hangglider from Harties is a C-License. It is strongly advised that new or visiting pilots seek advice from local senior pilots as both north and south side launch are technical and require a proper briefing.
The cableway operator will load Hang Gliders once in the morning (8:30) and once in the evening (5pm) on the service car.
Access needs to be cleared with the Cableway the day before by contacting the General Manager on jackl@hartiescableway.co.za.
There is very limited space for a hang glider to land on either the north or south side directly below the mountain. Most hang gliding pilots land at Jasmyn (windmill) on the south side. Or open fields near Xanadu Eco Estate. On the North side be aware of open fields at big centre pivots on Zilkaats Private Estate. The gate requires resident security to open and very long walk out is guaranteed. We suggest picking an open field that is closer to Brits and the highway, watch out for overhead crop irrigation and power lines near the pub to the west of the road to Brits.
Notes for Commercial Tandem Pilots
Commercial Tandem flights may only be flown by tandem pilots who are APPROVED by Harties Cableway Management and FlyHarties Committee. No more than 5 flights per day may be flown by one TFI pilot. The safety of guests at the Cableway is paramount. Launching in back wind or zero wind is not permitted.
TFI pilots wishing to fly commercially at the cableway MUST contact the FlyHarties committee for review and permission to be included on the Management list.
Any non registered Tandem Pilot found to be charging passengers for a flight will be heavily fined and their membership and access denied for three months. This rule includes launching from the North side or any of the Eastern, South Eastern launches. This is a club rule and not a site ownership rule.
FREE Private Tandem flights with family or friends are permitted. The Cableway and FlyHarties Club and its associates accept NO RESPONSIBILITY for pilots or their passengers.
ALL Tandems may only launch from North Side or South Side Ramp and not off of the Eastern launch areas. This is for passenger safety.
The FlyHarties Team have a zero-tolerance for tandem pilots who place their passengers at risk and warn pilots that they will be severely dealt with if any passenger sustains an injury due to negligence.
Conditions are not always suitable for tandem flying, take conditions into careful consideration and make the correct call for the day. Always put safety first!
Airspace Restrictions
The Harties site is situated close to several international airports and military air bases. Pilots must remember that the privilege to use this site exists only because of delicate, ongoing negotiation with Air Traffic Control.
Should paragliding pilots break the airspace boundaries, this site may be shut down at a moments notice. It is therefore MANDATORY to fly with an instrument that logs the flight and provides live information to the pilot. If the track log is called for, it has to be submitted to the committee. If not, then an immediate ban of 3 months will be enforced.
Repeated violations will not be tolerated and the pilot will be denied access to the site.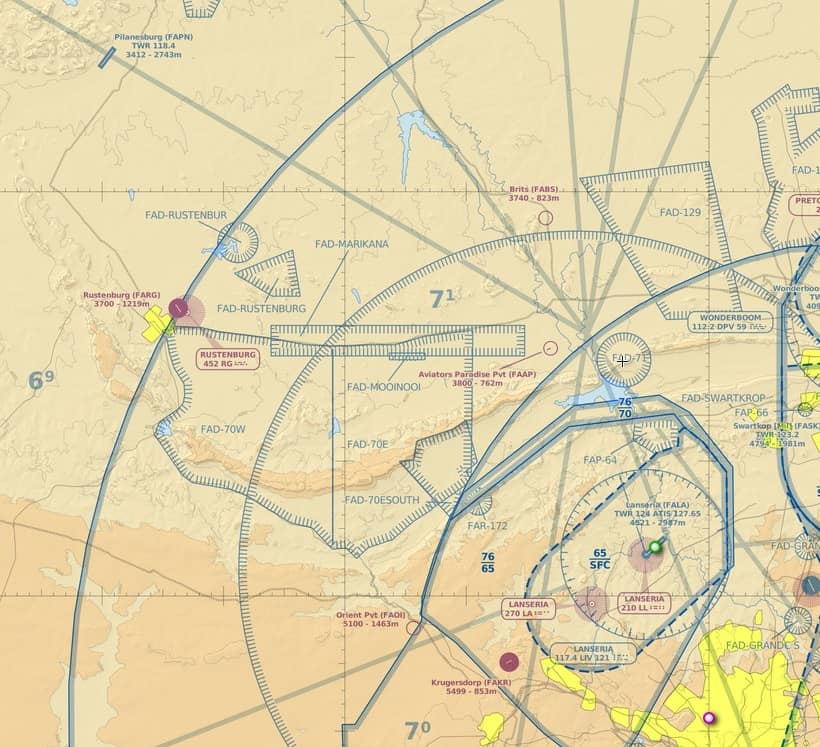 Airspace File
The official airspace file can be downloaded here. This file includes the Orient Gliding Window.
It is strongly recommended to keep an additional 150ft (50m) separation to the relevant airspace due to possible local pressure differences.
Radio Frequencies
See also the Special Rules.
Instrument Settings
The airspace under the FAOR TMA starts at 7600 ft ALT and ends at FL110. Flight instruments need to be set to the QNH of FAOR prior to takeoff. Alternatively, the QNH on a flight instrument is to be set to reflect a pressure height of 1583m ASL if standing on the launch mat on the North side, or 1606m ASL if standing on South side launch.

The FAOR TMA starts at FL110 and ends at FL195. When flying under the TMA, QNE is used as instrument pressure setting (1013mB). Most flight instruments will have this as a fixed value called "ALT1" or "FL" but the onus is on the pilot to understand these concepts and set his/her instrument accordingly.

No exceptions will be made in airspace violation incidents with an incorrectly set up instrument.
Alternative settings
Enter the following waypoint into your GPS ORT 26º08.35'S 27º14.76'E. At takeoff press GOTO OR, if distance is <65km your altitude must be <2300m, if distance >65km & <115km your altitude <3300m. This is for the NW quadrant (typical XC route).
40km out on the south side of the ridge a special concession area allows you <4400m.
Contact
Attitude4Altitude Paragliding

Tracey King 083 450 8849
Adam van Renssen 082 749 3518

Cloudbusters

Leon Viljoen 081 317 6443
Kevin Collier 061 445 1465

1st Paragliding Club

Mark Human 081 317 6443
Pierre Carter 083 344 8936

Skywalk Paragliding:

Ronnie Beukes 082 322 1824

FlyTribe:

Gary Du Plessis 082 574 6147
Retrieve Drivers