Original content sourced from Greg Hamerton's 'Fresh Air Site Guide', 5th edition, 2006.
DESCRIPTION
Thermic site: the NE buttress of the Table Mountain, Devil's Peak provides a superb view over the city, especially if you're flying and everyone is working.
WIND
Thermic N GPS: +- S33o56.783' E18o26.35'
LAUNCH
A bushy slope covered with fynbos, just above the end of the road.
ALTITUDE
250m above landing (450m ASL), with airspace ceiling at 1200m ASL.
LANDING
The vacant lots on the east side of the Cape Technikon (the sprawling campus down and to the left of takeoff). Emergency landing on the school playing field below the highway, which is fairly tight; ensure an accurate setup.
CAUTIONS
Flyable Northerly wind conditions are very rare and can quite often be a 'berg wind' (turbulent NE from the inland) which is unsuitable for flying.
DIRECTIONS
Drive up to the Table Mountain Cableway, and continue to the end of Tafelberg road. Walk on until you find the path leading back above the cars.
CARETAKERS
The Glen Paragliding Club
SANParks
SANPArks Wildcard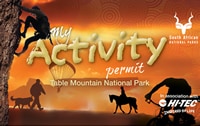 All pilots flying in the Table Mountain National Park are required to apply annually for a TMNP My Activity Permit (Level 2 – Hang-gliding and paragliding) which currently costs R455pa. These are issued at the SANParks offices.